Fun things to do off the Las Vegas Strip this Summer
Long gone are the days where the prime activity in Vegas was gambling. Today, you can spend an entire weekend in Vegas without even a second thought of hitting the slots ever crossing your mind. With so many distractions around every corner, many people no longer consider Vegas simply a gambling destination, but rather an entertainment destination. From world class shows & entertainment, to top knotch celebrity chef restaurants, to oddball attractions lurking in & outside every single casino, there is basically something for everyone in Sin City.
With so many things to do in Las Vegas this summer we thought we would add some of our favorite off the strip adventures that give you an adrenal rush and adventure you will never forget.
Shoot an Automatic machine gun from a Helicopter
The Ultimate Thrill Ride In Las Vegas. We are the ONLY place in Vegas where you can shoot from a Helicopter. If you are craving an extreme adrenaline rush, then this unique flying and shooting experience is the ultimate Las Vegas bucket list item that you have to try. 
For those who are brave enough Gunship flies thrill seekers in its doors-off helicopters.
You will fly over rugged desert terrain dotted with cacti, cows and the occasional human. You will arrive at a remote range on a rugged mountaintop south of Las Vegas.
Once the helicopter has reached the range, shooters (first-timers are welcome) will fire 50 to 52 rounds of ammo; from a M249 SAW belt-fed semi-automatic weapon at a group of brightly-colored targets perched on barren rocks.
The adventure begins though as soon as you arrive at Gunship, which is located in nearby Boulder City.
Book now and get the adrenaline rush of a lifetime
 A Helicopter Tour Into The Grand Canyon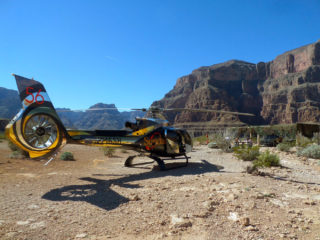 There is no cooler way to see the Grand Canyon than to take a helicopter flight into this natural wonder and landing thousands of feet below the rim for a private picnic area overlooking the Colorado River. Flying in a helicopter is a bucket list item in itself, but this tour includes stunning aerial views as you fly over the Mojave Desert, Hoover Dam, Lake Mead, Grand Canyon West and the Las Vegas Strip. See our Grand Canyon Helicopter Tour from Las Vegas article to see pictures and details of this amazing experience.
Zipline Through The Desert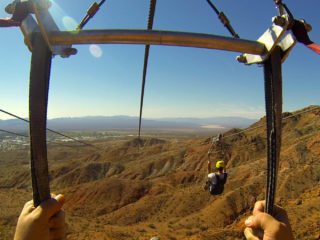 This exciting outdoor adventure has thrill seekers zipping through four separate zipline runs that cover 1 1/2 miles and soar high above the Mojave Desert. Have fun hiking through Bootleg Canyon and taking in the scenic views before strapping onto one of the ziplines that will have you flying down the mountains at speeds up to 60+ mph. See our GoPro video of our zipline runs at Flightlinez Bootleg Canyon.
Take An Exotic Car Out For A Few Laps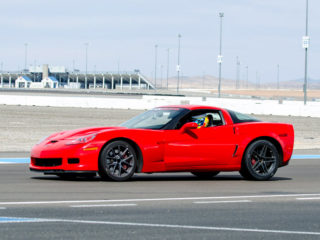 If you have ever wanted to jump into an exotic supercar and put the pedal to the metal, this is the experience you are looking for. Drivers can choose from a variety of exotic sports cars – Ferrari 458 Italia, Porsche 991 GT3, Lamborghini Gallardo, Audi R8, Corvette Z06, etc. – and race these beasts around the Las Vegas Motor Speedway track.
Catch Some Air Via Indoor Skydiving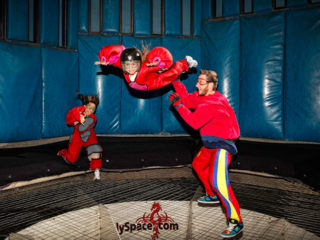 If you ever wanted to skydive, but the thought of jumping out of a plane put those plans to rest, indoor skydiving might be what you are looking for. On the north end of the Las Vegas Strip, Vegas Indoor Skydiving offers up a thrilling freefall experience without all the planes and parachute worries. We had a great time flying, floating and falling during our time in the indoor vertical wind tunnel that thrusts winds upward at 120 mph. See our article on our Vegas Indoor Skydiving experience.
Drive, Jump And Drift An Off-Road Race Truck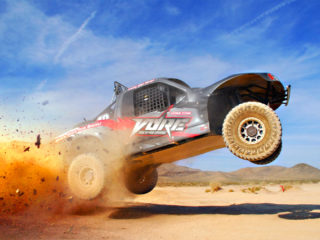 An amazing off-road experience that will have your adrenaline pumping is VORE – Vegas Off-Road Experience. The thought of strapping into a massive Pro Lite off-road racing truck and flooring it around an arena style, professional level short course race track sounded too good to not be on our bucket list. After a video introduction, a run through lap with our instructor, we were "barreling" our way through 10 fast paced laps of the off-road course. Our track, the short course, has high banks, drifting turns, dive jumps and five major jumps with a 40 foot table top jump that gets you 20 feet in the air. View our Vegas Off Road Experience video to see one of our short course track runs.
 Race Through A Las Vegas Indoor Kart Racing Track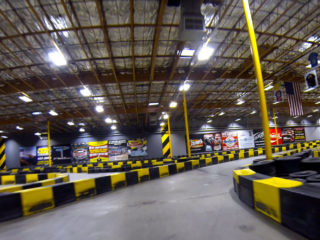 Leave the snail paced traffic of the Strip behind and head on over to the blazing fast go kart race track. At Pole Position Raceway, their electric go karts can reach speeds of up to 45 MPH as they navigate the turns, curves and straightaways of their large indoor race track. These electric go karts are not the ones you see at the mini golf family centers – they are high performance go karts that accelerate quickly, drift and brake, are very agile and are extremely fast. See our Las Vegas indoor go kart racing article with GoPro video of our race.