Fun Things to Do When Someone Visits Las Vegas On and Off the Strip
You know the drill. Whenever friends or family come to Las Vegas, they rely on you to show 'em around. Well, it's time to step things up. You can do better than the Container Park and the M&M Store. Let's take a look at the iconic touristy stuff that actually lives up to the hype, a few under-the-radar things that only locals know about, and a few seasonal activities perfect for the warm weather as we head toward summer. (This may be Vegas, but most of them are reasonably priced, we promise.) If for any reason none of these options grab you, check out our updated seasonal events calendar, as well as our comprehensive guide to eating, drinking, and having fun in the city.
Free

The Bellagio
It may be the most obvious free thing to do in Vegas — but it's one of the coolest. The sight of more than a thousand fountains shooting water nearly 500 feet into the air never gets old, whether accompanied by the music of Frank Sinatra or Tiesto. Shows tend to run every 15 minutes at night and every half hour during the day, offering a welcome dose of class and romance to your busy day of sightseeing. It's also totally free — making it one of the best cheap dates in Vegas. Follow it up with an equally free detour to the seasonal floral displays at the Bellagio Conservatory and Botanical Gardens inside the hotel lobby.    
Gamble at all the right places
$-$$$$
Multiple locations
There's nothing wrong with trying to win a few bucks at the tables. Just know that all casinos aren't created equal. Last year, The Cromwell became the best bet on the Strip by introducing single "O" roulette, EZ baccarat, 3-2 shoe and double-deck blackjack, and craps featuring 100X odds. If you understand what that all means, you know it's a lot better than what you'll find at other Strip casinos. If you're downtown, El Cortez also has double-deck Blackjack with 3-2 odds. By the way, we've got a full guide of tips and tricks that anyone dreaming of gambling should take a look at.
See the brilliance of the Neon Museum
$
Downtown
The Neon Museum was one of the coolest museums in Vegas to begin with — offering guided tours of old marquees representing the neon history of vintage Vegas. The experience got even better with the introduction of "Brilliant" — a light and video display by artist Craig Winslow that brings some of those signs to life without a single one being plugged in. Accompanied by music to match the Vegas experience over the years, the attraction is based more on pride than predictable kitsch — providing lots of heart and a sentimental side that will have you feeling a little more in tune with this city when it's all over.  
Roam the Hard Rock off the Strip — while you still can
Free-$$$$
Off the Strip
You may have heard. The original party hotel that set the tone for modern Vegas — the Hard Rock Hotel & Casino — was recently sold to Richard Branson and will be rebranded as a Virgin Hotel in 2020. Lots of changes and renovations are promised, although the lobby's famous rock memorabilia displays will remain in place. But here's the thing — the resort has already seen some dramatic improvements in recent years. That means killer rock-star suites, a swinging lobby floor, and fun restaurants like MB Steak. And if you crave a hearty slice of beefcake, there's always Magic Mike Live.
…Or split a mammoth drink at the Hard Rock Cafe on the Strip
$$
On the Strip
Why feel pressured to spend hundreds (or thousands?) of dollars on bottle service when you can just do this instead? The Hard Rock Cafe on the Strip has an only-in-Vegas 94-ounce Moscow Mule in a giant copper mug for $50. It also comes in a pomegranate version and is served with a few glasses on the side, so you can share it with your out-of-town guests. And if you're looking for a slightly different vibe for your drinks, check out any of the spots we've named the best bars in Las Vegas.
Explore the food and drinks of Chinatown
$$-$$$
Chinatown
Las Vegas has an awesome under-hyped Chinatown that's just a few blocks west of the Strip on Spring Mountain Road — making it an easy Uber ride for anyone at a big hotel. This hub of culture and cuisine has even more variety than you might expect. The restaurants include the spicy Szechuan flavors of Chengdu Taste, the robata-grilled cuisine of Raku, the masterful Japanese dining at Yui Edomae Sushi, and even the experimental fusion of Sparrow + Wolf. Along the way, grab a cocktail at Golden Tiki, Sand Dollar Lounge, or the Leatherneck Club — which honestly have little to do with Asian culture, but are still awesome places to hang out.    
Hit golf balls (and try the pretzel board) at Topgolf
$$$
Off the Strip
While there are a few Topgolf locations around the country, the one in Vegas smokes 'em all. You've got three levels to drive golf balls while staring straight at the Strip skyline — which looks great day or night. Meanwhile, hang out in your own private bay while ordering drinks and food like a ridiculous Pretzel Board, which is kinda like a charcuterie and fruit plate served inside a giant soft pretzel.  
Celebrate the recent wave of local dining…
$-$$$$
Off the Strip
There's a reason that so many of our best new restaurants of 2017 and 2018 were nowhere near a casino resort. You can enjoy great neighborhood dining at spots like Black Sheep, District One, Esther's Kitchen, Flock & Fowl, Kitchen at Atomic, Metro Pizza, Other Mama, Paid in Full, and Sparrow + Wolf. And if you want super cheap food, there's a guide for that, too.
… Or go even bigger in search of food and fame at Vegas Uncork'd…
$$$$
On the Strip
If you or your guests have the cash to splurge, spring has a full slate of other food, wine, and beer festivals, but the biggest culinary event of the season is Vegas Uncork'd, also held in mid-May. Over four days, guests can enjoy private dinners presented by the likes of Gordon Ramsay, Giada de Laurentiis, and Nobu Matsuhisa. Or — just show up for the main event: The Grand Tasting poolside at Caesars Palace, where you can mix with celebrity chefs while sampling bites from their Vegas restaurants. If you're dying for a selfie with Guy Savoy, now's your chance.  
… Or skip the food events and snag the deals at Estiatorio Milos
$$
The Cosmopolitan
It's easy to narrow Estiatorio Milos down as one of the best restaurants in Vegasbased on its fresh seafood and Mediterranean-inspired menu. But it also scores points for tossing out a great bargain here and there. On the first Thursday of every month, the Winemakers Table Dinner serves up six courses for $79 — wine pairings included! There's also a $49 four-course pre-theater dinner menu and the famous $29 three-course lunch. For one of our best restaurants in town, that's killer.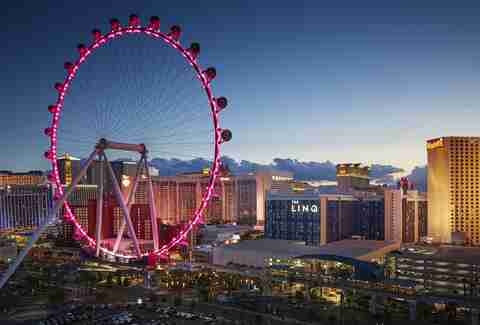 Enjoy an open bar on the High Roller
$$$
The LINQ
If there's one touristy thing that every tourist and local alike should do in Las Vegas, it's a spin on the High Roller. You'll spend 30-40 minutes on the world's tallest observation wheel — not to be confused with a "Ferris" wheel, because you can actually stand up and walk around in this thing. And if you want to spend a few extra bucks, you can even arrange a private bartender to serve drinks throughout your rotation. It's well worth the extra expense, since everything in Vegas is better with a drink — and a great view. At the highest point, you'll be 550 feet in the air, offering perfect sight lines of the Strip, airport, surrounding valley, and pretty much all of Las Vegas.
$$-$$$$
After lots of talk and lots of construction, the Monte Carlo officially transformed into the Park MGM last year. Eataly and the Nomad hotel-within-a-hotel are now here, and you can book renovated suites, check out the new pool decks, or just roam the casino lobby and appreciate how much better everything looks. If you get hungry, head to the outdoor garden patio at Primrose or the stylish dining room at Bavette's Steakhouse.    
$$$$
Pahrump
Hitch a ride with Sundance Helicopters, fly over Mount Charleston and the Red Rock Canyon, and land at the Pahrump Valley Winery — owned by a husband-and-wife team who've managed to perfect the art of producing great-tasting wine in the middle of the desert. In addition to avoiding a boring drive to Pahrump, you'll get to experience a tasting of the winery's award-winning bottles and a four-course dinner at Symphony — the best restaurant in Pahrump.
Get out of town for a gorgeous hike
Free
Multiple locations
Look, we may be stuck smack-dab in the middle of the desert, but what that reallymeans is that Vegas has a big, wide-open backyard to play in — including some gorgeous hikes right outside of town. We're talking Red Rock Canyon, 20 minutes from the Strip. Valley of Fire State Park, less than 90 minutes away. The Grand Canyon less than five hours away if you're feeling ambitious. Just go; most trips you would take would basically be free if you hoof it.
Tap into Vegas' criminal history at the Mob Museum and more
$$
Downtown and the Strip
No, we're not talking about the resort fees. We're talking about the legacy of organized crime in Las Vegas that this town loves to celebrate in all its wicked glory. Start with the Mob Museum, where you can see exhibits dedicated to the most devious mobsters in history. It's also where bus tours usually leave for a look historic mob locations throughout the city. Even the corporate crunch of the Strip can't escape its criminal past. The Flamingo honors Bugsy Siegel with a memorial (and bar) dedicated to the gangster who built the hotel. However, the most fun is during the regular dinner series at Oscar's Steakhouse, in which former mayor and mob lawyer Oscar Goodman dishes dirt about his former clients over dinner.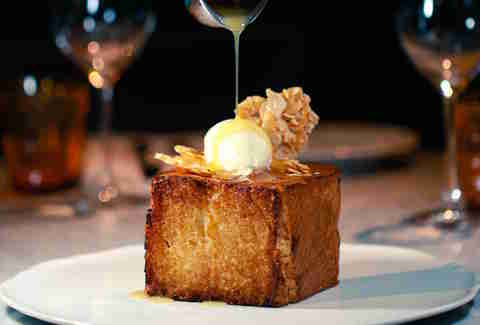 Experience the very best of Las Vegas brunches
$-$$$$
Multiple locations
No matter what your price point, if you like eating meals topped with eggs, home fries, biscuits, bacon, or anything else that you consider integral parts of a balanced breakfast, Vegas will avail you. Our town has no shortage of delicious brunch options in every neighborhood — whether you like your brunch boozy or dry. Spring and early summer are the best times for it, before things heat up too much. (And for something more casual than full-on brunch, one option we love is Public Works Coffee Shop, which does special events sometimes, too.)
Take a trip back in time at the Pioneer Saloon
$$
Goodsprings
It was originally ordered from a Sears catalog, but the oldest bar in Southern Nevada is still standing just a few miles near the California border. It's expanded dramatically over the years — with a kitchen, dining room, patio, courtyard, and even a whiskey-aging program to keep people coming back for more. The place is also said to be haunted, so don't hesitate to book a ghost tour.  
Drink a Scorpion Shot at Nacho Daddy
$
Multiple locations
Yes, we're serious, you're going to add a real pickled scorpion to a shot of your spirit of choice at Nacho Daddy — although we recommend the restaurant's own house-brand of tequila. Don't worry, you're more likely to feel a sting from the alcohol than from the scorpion. With locations on the Strip, Downtown, and Summerlin, Nacho Daddy has three opportunities to tick this box on your Vegas bucket list.
Feel the Vegas spirit with the Golden Knights
$$-$$$
On the Strip
The latest NHL franchise has a knack for making believers out of hockey fans. As the team continues to exceed expectations for a debut franchise, Las Vegas has rallied around them — packing the T-Mobile Arena. Even out-of-towners loyal to their own home teams have been caught up in the fever (and showing no shame in dubbing the Golden Knights their "second favorites"). Also, it's not about going all the way to the Stanley Cup as much as it's about feeling the thrill of victory and a community spirit that came at just the right time.  
$$
The Rio
Vegas has a few different zip lines, including one that flies over the Fremont Street Experience and another among the hills of Bootleg Canyon near Lake Mead. But the one that scores the most points for pure insanity is the VooDoo Zip Line at the Rio. It begins on the 50th floor of the Masquerade Tower and carries up to two people at a time about 800 feet down to the Ipanema Tower at speeds reaching up to 33 mph. In the middle of freaking out, you'll get to check out stunning views of the Strip to the east and Spring Mountains to the west.  
Camp out at EDC — one of our biggest festival experiences
$$$
Las Vegas Motor Speedway
Nightclubs are kind of a thing in Vegas, but the biggest one of all is the Las Vegas Motor Speedway, which transforms into the Electric Daisy Carnival for a colorful and crazy three-day weekend each year. The dusk-to-dawn party welcomes more than 140,000 people each night to enjoy nonstop DJs performing on several different stages. New this year — a campground site that allows you to spend the entire weekend on the property. Choose from air-conditioned tents or luxury pods — and no matter what you do, stay hydrated.  
Free-$$$
Downtown
The easiest way for a tourist to not feel like a tourist is by making a quick visit to the Downtown Arts District — about a mile south of Fremont Street. In between shopping for secondhand knick knacks at Antique Alley, you can grab cocktails at Velveteen Rabbit, eat dinner at Esther's Kitchen, and enjoy coffee at either Vesta or Makers & Finders. And that's just the tip of the iceberg. The community is expected to grow dramatically in upcoming years, but you can show your visitors around — and make 'em feel like they were among the fist here.
$$
MGM Grand
Remember when virtual reality in the '90s? As in, when it totally sucked? Well, those days are over, and the best example in Vegas is the appropriately named Virtual Reality at the MGM Grand. The attraction offers four games in which you and your friends strap on goggles and backpacks to roam a space station, kill zombies, solve puzzles, and other cool stuff. Even though you'll be in an empty rectangular room, you'll feel like you're walking up and down ramps and delicately crossing catwalks. It's a trip.
$$$$
Caesars Palace
Restaurant Guy Savoy and Krug Champagne have joined together for the only Krug Chef's Table in the United States, and one of the best restaurants on the Strip. Seating just six people at a time, guests enjoy an evening of at least 13 courses with an up-close view of their food being prepared by four stations in the kitchen. Of course, there will be plenty of Champagne pairings along the way. It's really the best way to enjoy the French cuisine of Guy Savoy at his only restaurant in the Western Hemisphere.
$$$$
Nevada was built on the mining industry and one of the best examples is Techatticup Mine — about 45 miles southeast of Las Vegas. Located in Eldorado Canyon, the mine was a source of gold and silver — often hand-chiseled by candlelight — dating back to the Civil War era. Papillon has a great package that covers transportation and lunch, allows you to explore the site, and take an ATV ride through the desert. There are other tours you could probably take, too, but Papillon's will fly you over the Grand Canyon by helicopter just to get there. Not bad.
$$
Downtown
Even before the craft cocktail boom took off in Vegas, the Downtown Cocktail Room was ahead of the trend. Although just around the corner from the Fremont Street experience, the bar is quiet, unassuming, and still a bit of a locals' secret, despite being one of our very best in town. The team of mixologists produces a new menu about four times a year with subtle yet inventive twists on familiar classics. The punchbowl and absinthe selections deserve your attention as well. Happy hour runs Monday to Friday, 4-7pm.
Lounge comfortably at a topless pool
$$$
On the Strip
You can get wild and crazy at one of the many day clubs on the Strip… or you can sit back and relax at one of the many topless pools in town. Venus European Pool Loungeat Caesars Palace and Bare at the Mirage are pretty much party zones, but if you prefer a more refined atmosphere, Moorea Beach Club encourages a crowd that's a little less likely to freak out over a nipple. Spend a few bucks on a cabana and book yourself a poolside massage.   
Try different restaurants in a single night with a Las Vegas Foodie Tour
$$$
Multiple locations
The number one question asked by out-of-towners: "Where should I eat?" If you have a hard time answering, direct them to Lip Smacking Foodie Tours. The company specializes in a few different culinary walking tours, in which guests sample signature dishes and drinks at top restaurants on the Strip or downtown. A newly added "Ultimate Steakhouse Tour" really takes things up a notch, and there's nobody better at this than Lip Smacking Foodie Tours in Las Vegas. No lame restaurants, no retail stops, just the best of the best — all in one evening.
$$$
Downtown
Your guests may have thought something was up with Las Vegas when they saw slot machines at the airport, but wait 'til they check out the Smith Center. The stunning performing arts venue has three different rooms to showcase the finest in entertainment, including a cabaret jazz lounge, the black box-style Troesh Studio Theater, and Reynolds Hall — a stage that hosts shows like The Lion King, Hamilton, and Wicked.  
… Or sip cocktails and catch an intimate show at House of Blues
$$
Mandalay Bay
Old enough to remember what a record of a hit song looks like? If you flip it to the "B-Side," you get something familiar but a little bit different. That's the idea behind B-Side — a new intimate space at House of Blues that features a fresh menu mixed with cocktails and live music.
Drive cars you could never afford to own at SpeedVegas
$$$
Off the Strip
If you've had enough of Vegas traffic, SpeedVegas will let you hop behind the wheel of an exotic car and race around a 1.5 mile-long track that features shifts in elevation and 12 turns to keep things interesting. Whether it's a Ferrari or a Lambo, you'll get a rush that's almost as good as the photo you'll take alongside the car afterward.
Treat yourself to a ritzy spa day at Mandarin Oriental
$$$$
Mandarin Oriental
Skip those foot massage parlors in Chinatown. It's worth a few extra bucks to relax and recharge in a spa at a major Strip resort. Splurge on The Spa at Mandarin Oriental, featuring two levels of steam rooms, vitality pools, beauty treatments, lounges, and all sorts of things dedicated to making you feel a little bit better. The co-ed Hammam body scrub seals the deal.
$$$
The Mirage
You've got more than a few shows by Cirque du Soleil to choose from on the Strip. But only the Beatles' "LOVE" features the music of the groundbreaking rock group pumping through a booming sound system while dancers, acrobats, and other performers take you through a trippy and psychedelic vision of 1960s London.  
$
The Cromwell
The Cromwell's $1 martinis may be a thing of the past, but their happy hour deal is still pretty good for Vegas. Mondays through Fridays for a day-long "happy hour" from 9am-8pm, you can get vodka cocktails and beer specials for $3 each at the Interlude lobby bar. Just don't forget to tip.
$$$$
Off the Strip
Imagine having free reign to play around with heavy equipment on a construction site. That's the basic idea behind Dig This Las Vegas. The "Mega Dig" package puts guests behind the controls of both a bulldozer and excavator while the appropriately named "Aggression Session" allows you to smash up a car. Take note: this is one of the many things you can basically only do in Vegas.
Play video games inside a giant pyramid at Esports Arena
$$
Luxor
It's time to leave the comfort of your tiny apartment to play video games inside the brand new Esports Arena. The 30,000-square-foot multi-level venue is loaded with giant screens, competitive stations, and even a broadcast center so fans can watch high-intensity games online. An all-day gaming pass is $25 per person and there's even food from Jose Andres' culinary team. So really, there's no reason for a video game junkie to ever leave..
Shoot an automatic machine gun from a helicopter with Gunship Helicopters
$$$$ Off the strip
If you find yourself looking for an adrenaline rush look no further than Gunship Helicopters. The Ultimate Thrill Ride In Las Vegas. We are the ONLY place in Vegas where you can shoot from a Helicopter.
"Experience a Pure Adrenaline Rush"
Once you arrive at our exclusive out door air-born gun range just outside of Las Vegas, you will enjoy ground simulations and pre-flight mission before boarding an A-Star 350 B2. You'll fly in an open-door helicopter over 71-acre private shooting range in the Mojave Desert. After taking your seat behind the mounted belt-fed M249 Saw,  you'll be shooting at dozens of AR-500 reactionary steel targets, airplanes, and zombies scattered throughout the shooting range. Take note this is one of those things you can only do in Las Vegas.